Meet Our Ministerial Staff
Elder Wayne Henry greets you in that wonderful, majestic and matchless name of Jesus Christ. It is my earnest desire to see individuals experience the life changing salvation, which was extended so graciously unto me and countless others that is freely offered to all who diligently seek and pursue God. Furthermore, it is my hope that all discover the riches of Jesus' glory and the depth of His most profound love which can only be realized through developing and maintaining a personal intimate relationship with Him. Finally, remember Jesus loves you right where you are and is the only door that leads to eternal life. May God bless, smile upon and keep you in the center of His will.
Elder Leroy Bovian, Jr. greets in that adorable name of our Lord Jesus Christ. He is the hope and joy of my life. It is He that has made my days livable and manageable. The Lord is continually blessing me in my walk with Him. I adore him because he is making me into who he will have me to be…a man who has love for others and a burning desire to feel empathy and pray for the souls that are seeking to know the Lord. I share the burdens of the saints and cherish opportunities to minster to them.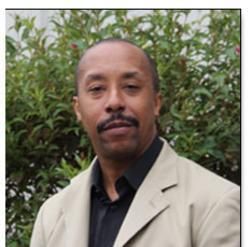 Minister Flintchel Brown is a humble servant of the Lord who has a passion for the Word of God. GOD said in Matthew 11:30, "My yoke is easy and my burden is light. Take my yoke upon ye and learn of me." In his role as Superintendent of Sunday School, it is in the Word of God that Minister Brown can be found meditating day and night; preparing for each Sunday School lesson. Through the working of the Holy Spirit, he is encouraged to help individuals learn God's Word and its simplicity through everyday complexities. Yes, as Minister Brown's favorite song declares, "God is my everything" and there is no problem too big for God to handle. Minister Brown's favorite scripture is Psalm 133:1 "Behold how good and pleasant it is for brethren to dwell together in unity."
Praise the Lord! I'm Minister Tim Griffin. Some refer to me as the "armor bearer". I see my role as a minister to be that of a supporter. I am a family man and fully yield my support to my immediate family, church family, and pastor. Matthew 25:34 declares, "Then shall the King say unto them on his right hand, Come ye blessed of my Father, inherit the kingdom prepared for you from the foundation of the world. " My desire is to bless and assist others, and to do that which my hands find to do in the Lord's House. I pleasure in visiting the sick, checking on the elderly, and lending a helping hand to those less fortunate. This passion for service is what drives and motivates me to be the best for God I can be. I encourage all of you to commit your will and ways to the Lord and watch him work in your life
Youth Minister Timothy Griffin
As Timothy grew up, he had many experiences that challenged and strengthened his faith. By the grace of God over his life he has a story that he tells everywhere he goes. Since birth Timothy was diagnosed with a blood disorder called Sickle Cell. Many children today are in and out of the hospital month to month for blood transfusions and much more, but as for him he is blessed by not having any effects from it.
Timothy was called into the ministry at a young age and many would tell him, but he couldn't see it until God had to sit him down on his sick bed and show him. Before being ordained as the Youth Minister under his Pastor, Elder George D. Patten the Pastor of his church, True Believers in 2016 of January, he would travel doing a lot of different speaking engagements.